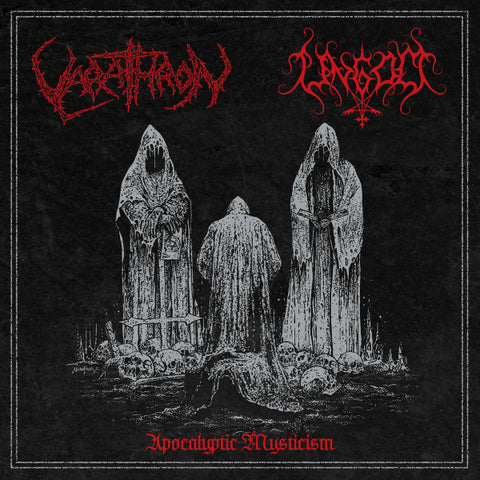 Varathron / Ungod – Apocalyptic Mysticism 7" split vinyl
Varathron / Ungod – 'Apocalyptic Mysticism' 7" split vinyl
7" Black vinyl edition in picture sleeve with insert limited to 250 copies
Both 
VARATHRON
 and UNGOD require no introduction, being two of the oldest active black metal bands around: the former formed in 1989 while the latter formed in 1991. As such, their respective iterations of black metal are eternal and unyielding, and hail from a vast expanse of history rich in mysticism - and indeed is this sacred pairing aptly titled! 
Apocalyptic Mysticism
 features an exclusive track from both bands. 
VARATHRON
 unveil a hidden rare spell from 1993 reimagined in 2016 titled "The Mystic Papyrous." On the flip, UNGOD let loose with "Sinister Forms of Fallen Stars," a new hymn captured in 2021. From the depths of the cult, from the heights of black heavens, two wanderers on eternal journeys follow the Devil's path!
---
We Also Recommend