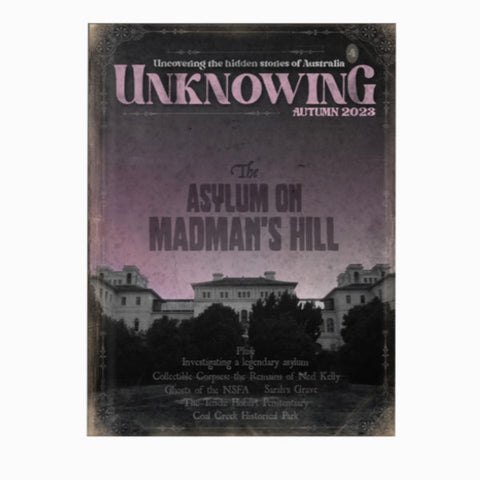 Unknowing Magazine Issue 4
'Unknowing Magazine' Issue 4

Pro-printed 32 page publication in B&w with glossy colour cover.
Unknowing Australia is an independently published magazine featuring essays and photography that uncover the hidden mythology, paranormal and haunted history of Australia.
Stories in Issue 4 (Autumn) include:
The Asylum on Madman's Hill (Aradale Asylum)
Investigating Aradale
Collectible Corpses: the Remains of Ned Kelly
Ghosts of the NFSA (Canberra)
Sarah's Grave (Castlereagh)
The Tench: Hobart Pentitentiary
Coal Creek Historical Park
...and more.
---
We Also Recommend