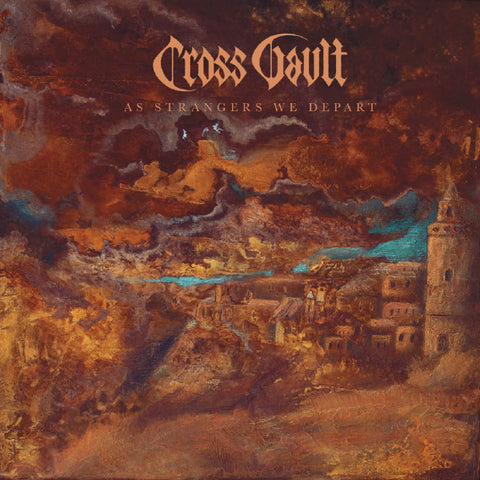 Cross Vault ‎– As Strangers We Depart LP
Cross Vault ‎– 'As Strangers We Depart' LP
Black vinyl edition in gatefold sleeve with inner picture sleeve.
in 2021 CROSS VAULT return, mightier and more majestic than ever and right from the opening notes, this is the goosebump-inducing CROSS VAULT many have
 

come to cherish as the metal underground's most overlooked masters: solemn, steady, sweepingly stoic, but stirring the emotions and indeed the heartstrings like few others can these days. The formula hasn't changed across As Strangers We Depart so much as the bravado and confidence in which CROSS VAULT dole out these seven towering hymns. Viking-era Bathory is still a touchstone, as are Solstice and Minotauri, but where the battlefield has gone bloodied but silent, the quintet explore the solemn aftermath with devastating dynamics. Not that CROSS VAULT's third album is merely an exercise in loud/quiet cliche; rather, delicate nuance has taken center stage with As Strangers We Depart, giving the record the overarching air of Viking funeral or simply a lament for lost times. And when that characteristic heaviness at last arrives, indeed is it the thunder of the gods...
Classic doom METAL is a very heavy, and very human, realm. CROSS VAULT roam that field of experience with a pathos and bathos that's blanching to behold, and none more so than As Strangers We Depart: without a doubt, a great work of ages!
---
We Also Recommend