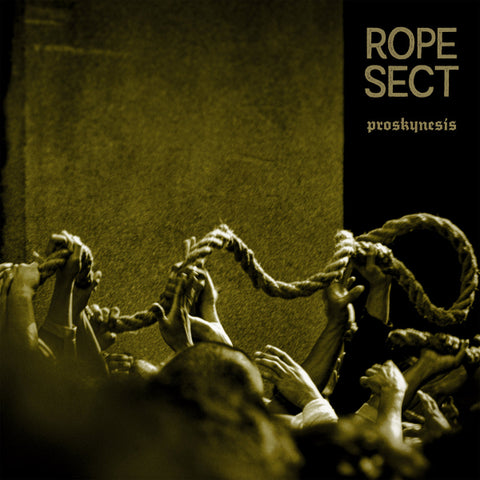 Rope Sect ‎– Proskynesis 10" vinyl
Rope Sect ‎– 'Proskynesis' 10" vinyl
10" black vinyl edition with insert limited to 700 copies
ROPE SECT's eerily minimalist deathrock speaks to the darkness in everyone. Simply, power and poignancy come in many forms, and ROPE SECT have secured theirs with an idiosyncratic sound that continues to find new listeners across a wide spectrum of experience. 
And that idiosyncratic sound receives unique punctuation with the 2021 Proskynesis EP. Comprising six songs, Proskynesis is a record of two distinct halves. The first half comprises three brand-new tracks called "Proskynesis" I, II, and III which mainly focus on ovation in form of a eulogy: a homage to the force that is manifested in the King of the Night - a worship of the ideas and ideals of the sect that were secretly ignited and built up to a grand fire which will even survive and endure the great flood and therefore remain forever. The second half of Proskynesis comprises old songs that have
 

only previously been released digitally. As such, they differ from the characteristic ROPE SECT sound, maintaining a more electronic sound - arguably, even more minimalist - and recorded solely by mainman Inmesher. Even within these even-more-Spartan confines, the band's sound simmers with an electricity that's undeniable and infectious. Together, both halves make for an illuminating totality that runs parallel and perpendicular to ROPE SECT's mesmerizing march to greatness.
---
We Also Recommend