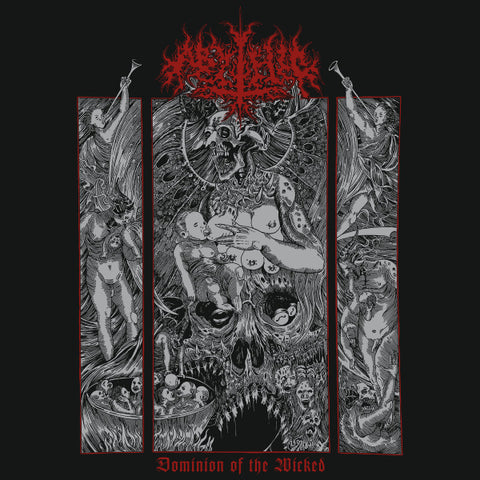 Abythic - Dominion Of The Wicked CD
Abythic - 'Dominion Of The Wicked' CD
Hailing from North Rhine-Westphalia, Germany, ABYTHIC formed in 2015 with patient and pulsing riffing, linear composition, an emphasis on doomy downtempo segments. 
And now, that "doomed-out" iteration gets really DOOMED-OUT on ABYTHIC's new 2021 album, 'Dominion of the Wicked' which is is the sound of desolation given thundering might, heaviness (in all senses of the word) stretched apart to alternately
 

suffocating/spacious extremes. Granted, ABYTHIC still retain that proud 'n' powerful class as informed by mid-period Bolt Thrower, Asphyx, Grave, and Pentacle, but with four songs spanning a stultifying 35 minutes, Dominion of the Wicked both challenges the listener and makes for masterfully atmospheric listening. In fact, those 35 minutes are so engrossing, so majestically hypnotic yet HEAVY, those minutes feel more like years, such is the time-evaporating power ABYTHIC have so studiously built these last few records. Credit due, then, to the band stripping down to a power-trio, with the emphasis clearly on POWER.

---
We Also Recommend