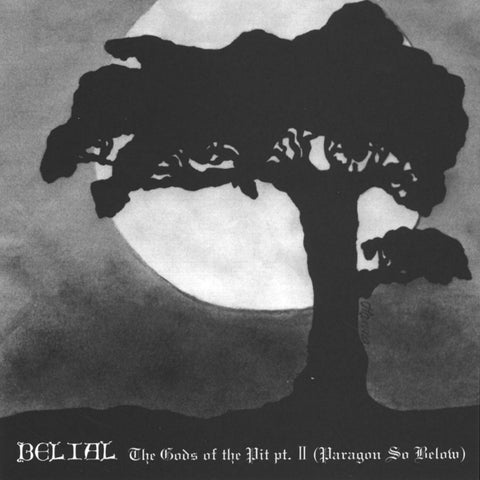 Belial ‎– The Gods Of The Pit Part II (Paragon So Below) CD
 Belial ‎– 'The Gods Of The Pit Part II (Paragon So Below)' CD
Limited edition CD reissue
New reissue of this long out of print classic! Essential wall of heaviness bulldozing all in its path with evil and hellish horror! From the legendary Finnish originators of 1st wave Death Metal! 
Formed in 1991, Finland's Belial swiftly took the fledgling Death Metal scene by storm. Releasing their 1st mini album "The Gods of the Pit" via Moribund records in 1992, the band helped kick-start the then new metal sub-genre of Death Metal. Belial went on to release 3 full length albums, 1992's "Wisdom of Darkness", 1993's "Never Again" and their final album simply entitled "3" in 1994 before disbanding. 
Belial's members went on to play in other influential bands such as Impaled Nazarene, The Rocking Dildos and Obfuscation! 
Out of print since 2010, this classic slab of early & foundational Death Metal is now available once again in a strictly limited edition pressing!
---
We Also Recommend