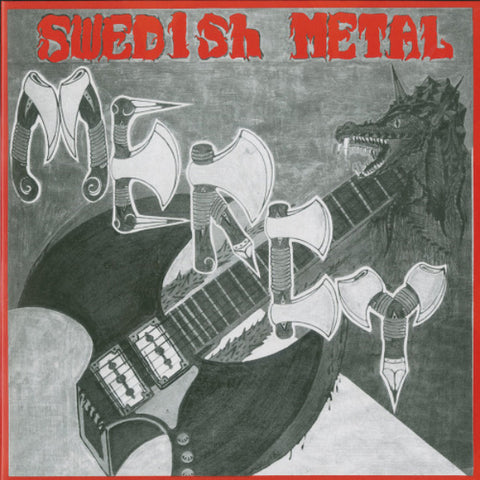 Mercy – Swedish Metal / Session 1981 LP (Clear & Red Galaxy Effect Vinyl)
Mercy – 'Swedish Metal / Session 1981' LP
2021 reissue clear & red galaxy effect vinyl edition with insert limited to 250 copies
Mercy's often overshadowed Heavy Metal-era deserves greater attention, however, and with this series of reissues, licensed from TPL records, NWN! honors the legacy of Veljaca and Mercy by making this material available again, most of which has not been repressed on vinyl since the 1980s. In addition, NWN! has endeavored to commit to vinyl demo material and other rarities that are out of print or have never previously been released on record. 
In the late 1970s and early 1980s, Sweden had one of the most fertile Heavy Metal scenes in the world.
 In 1982, Mercy released its first vinyl record, a 12" MLP boldly titled "Swedish Metal." The band, then operating as a trio consisting of "Andree" Veljaca on guitar and vocals, accompanied by Paul "Judas" Gustavsson on drums and Christian "Chris" Karlsson on bass, released the record on a label called Metal Shock—the only record the label ever put out. The five tracks on "Swedish Metal" are primal and impassioned; vigorous, raw Heavy Metal without refinement or finesse. Among the many phenomenal contemporaneous records released in Sweden around that time, "Swedish Metal" clearly stands out. This reissue marks the first time that this seminal recording has been made available on vinyl in over 35 years. Additionally, this reissue includes as bonus material the Session 1981 tracks that NWN! released as a 7" in 2007.
---
We Also Recommend