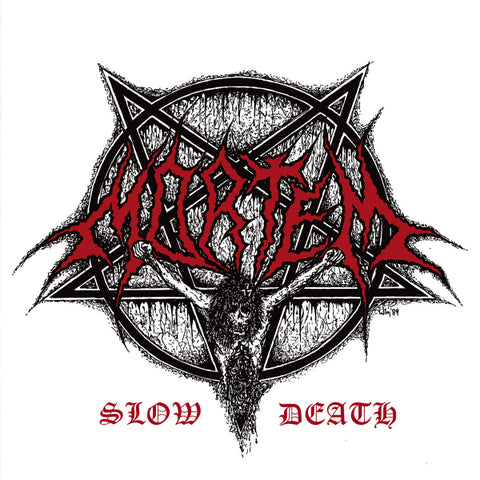 Mortem – Slow Death 2CD
Mortem – 'Slow Death' 2xCD
Double CD edition
New reissued edition of the legendary 'Slow Death' recordings re-recorded & reworked plus extra tracks & the original 1989 demo tracks.
Before Arcturus there was Mortem. Originally comprised of members now known from such classic bands as Arcturus, Mayhem & Thorns, Mortem was a leading act of the early Norwegian underground metal scene; their 'Slow Death' demo a highly inspirational work of early Norwegian extreme metal.
ormed by Marius Vold & Steinar Sverd Johnsen in 1989, Mortem was one of the first black metal bands to crawl out of the woodwork in Norway, releasing the highly coveted and brutal 'Slow Death' demo, with Euronymous & Dead of Mayhem acting as producer and cover artist respectively. After the release of 'Slow Death', the band was laid to rest with members going on to form and feature in acclaimed titans such as Arcturus and Thorns, both of which would become mainstays in the black metal scene and beyond.
This special release of 'Slow Death' contains the tracks newly recorded and reworked in a style more akin to the recent 'Ravnsvart' album material, plus also includes the legendary
 

pioneering 1989 demo itself, with a fresh transfer from a new tape source. The new recordings also include a rendition of the old Mortem track 'Satanas', plus a cover of 'Likferd' (Funeral Fog) by Mayhem, this time sung in Norwegian. Joining the original line-up of Marius, Steinar & Hellhammer is Tor Seidemann of 1349 on bass guitar.
---
We Also Recommend