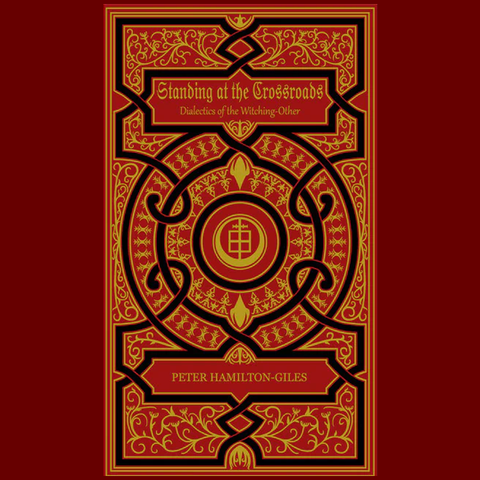 Standing at the Crossroads
Standing at the Crossroads
Dialectics of the Witching-Other
Standard Edition:
Standing at the Crossroads: Dialectics of the Witching-Other
By Peter Hamilton-Giles
Illustrations and Design by Carolyn Hamilton-Giles
Pages: 184.
Specifications:
Cover: Burgundy Buckram on 3000 mike board.
Design: Two colour foil block to front and back, with single colour foil block to spine.
Endpapers: Napura Wipalin Marine.
Paper: Munken Cream 100gsm.
Bookmark Ribbon.
Head and Tail bands.
Limited to 333 Copies
Truth is based on censoring that which might undermine alternative rationales, and so it is with how the existential witch has been accommodated by practitioners as the icon for folk based practices. Typically this stereotypical inclusion has up to now involved the appropriation of the most revered historical opposition to Christian patriarchy i.e. the witch, so that he or she might become a conduit for justifying rationales for qualifying alternative occult belief systems. Challenging the common consensus on engagement, we find Peter Hamilton-Giles in "Standing at the Crossroads: Dialectics of the Witching-Other" addressing ongoing silences embedded within the connectivity being felt towards the existential witch. Appealing to novices and experienced veterans of witchcraft alike this work casts a new light on the conditions informing how we come to embrace the witch.
---
We Also Recommend