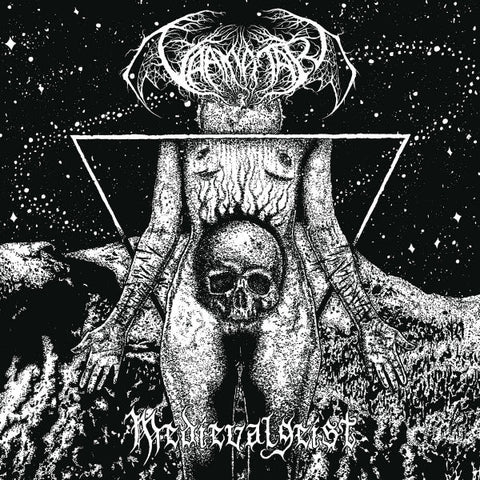 Vaamatar - Medievalgeist CD
Vaamatar - 'Medievalgeist' CD
4 panel digipak edition with booklet limited to 500 copies
 VAAMATAR was born with one intention: to play black metal in its purest form. Raw and fast and free of frills, the 2022 full-length Medievalgeist channels the spectre of the second wave of black metal during the 1990s, but VAAMATAR's strong songwriting eludes easy categorization. Instead of early Darkthrone, one can hear here contemporaneously early Dødheimsgard; instead of early Enslaved, the '90s work of Norway's Hades; instead of prime Marduk, comparably prime Arckanum, and so on. Which is all to underline that the female fronted duo of VAAMATAR are old souls to the bitter end, having imbibed ancient wisdoms and now spilling them freely across their own teachings in the form of Medievalgeist.
Recorded, mixed, and mastered by Greg Wilkinson (Autopsy, Necrot, Vastum) during the turbulent unrelenting pandemic, Medievalgeist conveys a cold, apocalyptic atmosphere fit for the ages. Its six-song/41-minute runtime is exceptionally immersive
, working on spiritual/transcendental levels as well as ones rooted in good, old-fashioned headbanging. 
---
We Also Recommend