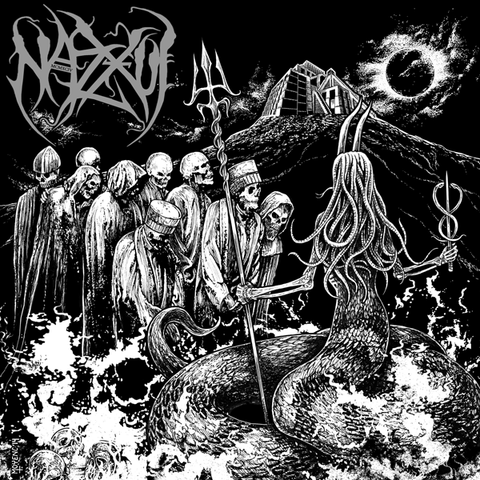 Nazxul - Irkalla LP
Nazxul - 'Irkalla' LP
PLEASE NOTE THIS IS A PRE-ORDER ITEM - RELEASE DATE 22nd MARCH 2021
The long awaited new album is finally released!
140g Black vinyl edition with insert and download code  limited to only 100 copies exclusive to Seance Records.
'Irkalla', like an otherworldly shadow exhales its deathly force having risen from beneath the shroud in 2021 as the first brand new material from Nazxul in over a decade. 'Irkalla' was clandestinely conceived and henceforth revealed are four new, previously unreleased tracks with a running time over over 30 minutes. Forged with a powerful ferocity reminiscent of 'Totem's' visceral brutality and the sublime grandiosity of 'Black Seed' and 'Iconoclast', Nazxul has created a powerful beast of remorseless darkness. Cavernous as the underworld for which it is named, 'Irkalla' is a commanding titan of heaviness with Nazxul's signature dynamic flair; the band's whirlwind of unrelenting riffing punctuated by epic, brooding refrains, merciless fermata, thorny vitriol and simmering vocal menace. This tumultuous inferno of sheer fury is underpinned with majestic, atmospheric keyboard and layers of guitar tracks that create a unique symphonic majesty and sublime orchestral exaltation which cascades and swells to a cacophonous fever pitch of diabolical intensity that is both poignant and deeply unsettling in its ability to summon and penetrate the soul. 'Irkalla' opens the seven gates to the underworld; the musical appeasement in an abode of ancient demons and darkness where we dwell as shadowy reflections and dust.
This new entry into Nazxul's canon solidifies the band as a monolith of the black metal scene; with their roots in the 90s second wave of black metal and one of the founding forces of the Australian Black Metal scene the cult of Nazxul never dies.
 Ia xul
Ia Ngissu Ush
Ia Lamashtu 
---
We Also Recommend