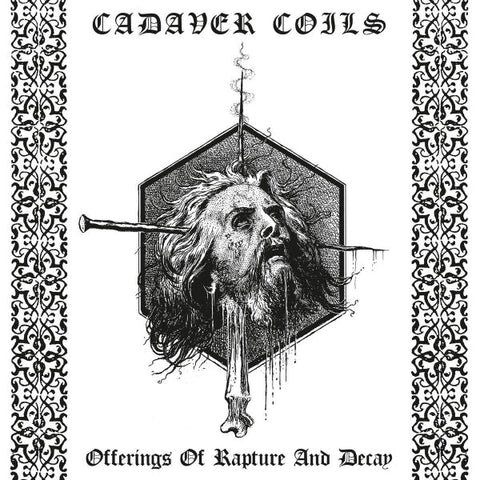 Cadaver Coils – Offerings Of Rapture And Decay LP
Cadaver Coils – 'Offerings Of Rapture And Decay' LP
Black vinyl edition with insert limited to 400 copies
The striking 2022 debut album! 
Hailing from Greece, CADAVER COILS took shape on Athenian soil during the winter of 2021, the work of one mysterious man. Sublimely simple and straightforward, this pure 'n' proud old-school DEATH METAL, suffused with the stench of doom and blackened with an atmosphere most sinister. Across the six-song/37-minute album, the intention of violence is obvious; so is the black aura surrounding it, slowly inhaled to the lungs. It's gnarly and physical in all the best ways, and emboldened by big 'n' thick production which highlights that grimy physicality. Not to mention the tasteful inclusion of wailing-into-the-abyss leads, which further makes Offerings of Rapture and Decay a sulfurous spin... 
Those who pray at the black altar of Finland's Mythos or especially contemporaneous Belial or even equally early Obsecration are wholeheartedly encouraged to partake of these Offerings of Rapture and Decay and begin ensnaring themselves in CADAVER COILS.
---
We Also Recommend