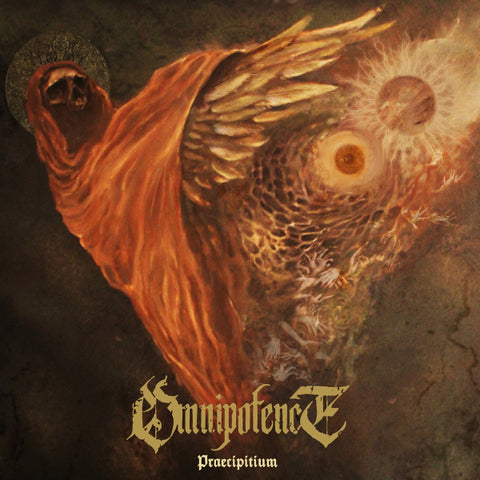 Omnipotence ‎– Praecipitium LP
Omnipotence ‎– 'Praecipitium' LP
Black vinyl edition limited to 400 copies
OMNIPOTENCE formed in 2015 as a living monument to the absence of light and the transformative properties that relate Microcosm and Macrocosm, and have thus far remained veiled until the completion of its first recorded work. Bound under the title Praecpitium, the energies that resonate the past into oblivion are here harnessed into a moody and malevolent work of deathened black metal. 
As befitting their moniker, OMNIPOTENCE strike at the fabric of time to circumvent and channel innate, inconceivable forces: indeed, the quartet encompass visceral omnipotence within the vast internal realms. Theirs is a sound rooted in the darkest days of the 1990s, particularly the searingly melodic ends of black metal during that decade's latter half. Perpetually pursuing the path beyond external restraint, across Praecipitium do OMNIPOTENCE wield the mercurial strings, skins, and flesh that assail the sonic canvas of abstraction, manifesting composite forms of sound and thought through the dissolution of four carbon vessels. 
Or, simply, Praecipitium is a startlingly realized and fully focused monument of majestic black/death. Behold OMNIPOTENCE and bow down before its unimaginable might!
---
We Also Recommend