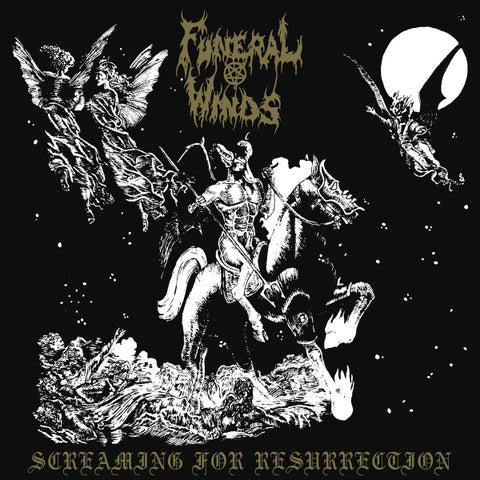 Funeral Winds ‎– Screaming For Resurrection... 2LP
Funeral Winds ‎– 'Screaming For Resurrection...' LP
Double LP edition on black vinyl with silk screened side D. Housed in gatefold sleeve.
Funeral Winds formed in 1991 as a trio, among the earliest of black metal bands to emerge from the Netherlands, and its activity through to the present day makes it one of the most significant in the country's history. Given the era of the band's formative years and its relative proximity to Norway, it is not surprising that Funeral Winds played in a style similar to that of the more well-known Norse bands like Mayhem and Gorgoroth. Prior to the release of its debut album, "Godslayer Xul," in 1998, Funeral Winds recorded three demos, an EP, and a split CD with Abigail. These early recordings were later reissued by two different labels on two separate compilations entitled "Screaming for Resurrection…" and "The Unheavenly Saviour" in 2004 and 2019, respectively. These collections are hereby resurrected on vinyl by Nuclear War Now!, a few months after first being made available on cassette by the same label. "The Unheavenly Saviour" compiles the first two demos ("Rehearsal 1992" and "La Majeste Infernable"), a live track, and an unreleased studio track from 1995 on a single
 

LP. The "Screaming for Resurrection…" DLP consists of the third demo, "Resurrection...," the "Thy Eternal Flame" EP, and the tracks from the split release with Abigail.
---
We Also Recommend