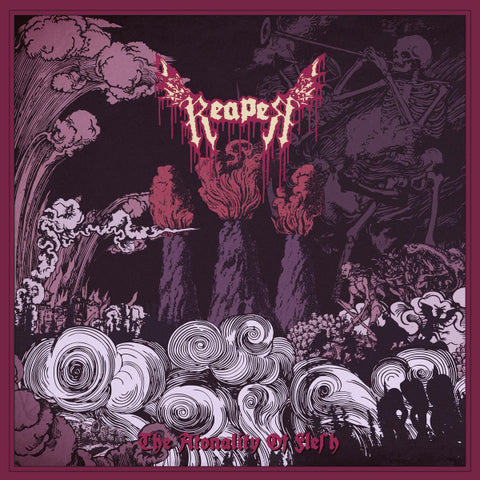 Reaper - The Atonality of Flesh LP
Reaper - 'The Atonality of Flesh' LP
Black vinyl edition with printed insert
Sweden's reaper return with a new album in 2021. 
Like a blast from Bathorian dungeons, REAPER burst forth from muck of time eternal with
 crude 'n' rude churn - thick and viscous is still their thrust, the latent D-beat discharging possibilities of life's destruction in a Covid-19 world, while the orkish vokills spill even more gism all over one's sanity and safety -
wilder, weirder, and altogether more haunting and harrowing. Riffs may go hard, but there's so much storm and stress here, it's as if tireless ghosts are chasing the unholy duo. Likewise, moments of pared-back repose make an appearance, such as on the aptly titled "Nightgaunts," and the attack altogether sounds...more serious, if you will. The production is wielded so masterfully like a second instrument: ripped and raw and yet somehow gorgeously/ghastly layered, The Atonality of Flesh imparts a kaleidoscopic sensation that wholly transcends the tired first-album Bathory trope and approaches something akin to High Art...and then defiles it, over and over again. Beautifully blitzed and taking no prisoners simply because there's no more space in their dungeon, REAPER deliver their second mini-classic in as many years with The Atonality of Flesh.
---
We Also Recommend