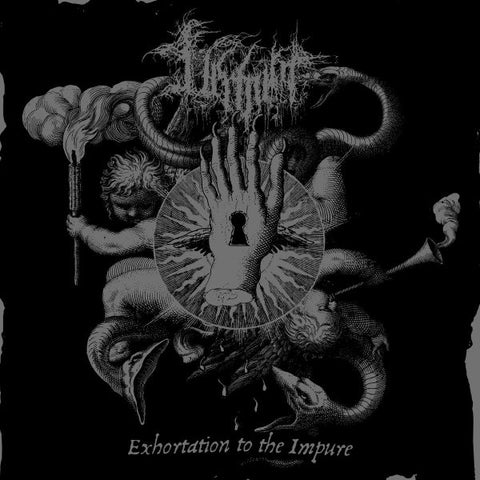 Verbum - Exhortation to the Impure LP
Verbum - 'Exhortation to the Impure' LP
140g Black vinyl edition with 12 page A5 booklet limited to 400 copies
Formed in 2014, VERBUM hail from the cult-metal hotbed of Chile, showing that their iteration of doomed-out death metal was as subtly unique and incredibly powerful.
 VERBUM return in 2022 from the void with a stultifying full-length, 'Exhortation to the Impure'. Indeed is it aptly titled, for the ever-churning FILTH here commands the soul - and then defiles it with utmost compunction. VERBUM thus act less like a band here and more like vessels; the decibels they churn out do sound like doomed-out death (or deathed-out doom?) and maybe the work of humans, but the creepy and forever-flowing digestion those decibels take is a path only the Beyond knows. Far from a formless mess, the dread direction Exhortation to the Impure heads down imparts upon the listener tension, terror, and general unease - and when the tempo almost indiscriminately picks up, all that is
 

heightened to teeth-gnashingly uncomfortable levels. Further heightening this ceremonial crush is the absolutely massive production, which sounds like boulders and earthquakes rendered in 3D tones.
---
We Also Recommend