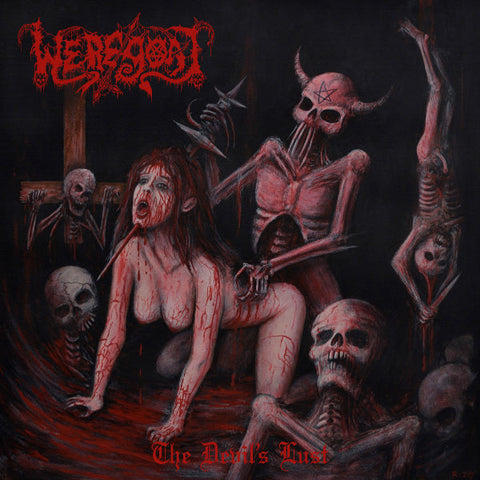 Weregoat - The Devil's Lust MLP
Weregoat - 'The Devil's Lust' MLP
Black vinyl edition with insert & poster limited to 800 copies
2022 brutally announces WEREGOAT
's first new recording in five years. Characteristically graced with hyper-sexual cover art courtesy of the legendary ROK (Sadistik Exekution), 
WEREGOAT
 waste no time in approximating that tableau with their bestial black/death. Uniquely, the production across the six-song/23-minute EP is sharper, drier, and more brittle than most of their bestial brethren. However, with this newfound clarity do the trio render their attack more unhinged than ever, as every element literally assaults from every angle in 3D dementia. And, just as they've proven over their handful of records the past decade, 
WEREGOAT
 have a keen knack for actual catchiness, further elevating the band away from the usual Black Witchery / Archgoat clones and closer to Vulcano and very earliest Sepultura. PULVERIZING!
---
We Also Recommend