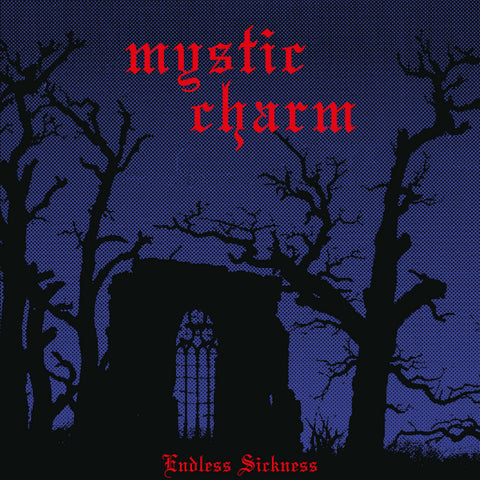 Mystic Charm – Endless Sickness LP (Imperfect)
Mystic Charm – 'Endless Sickness' LP (Imperfect)
PLEASE NOTE IMPERFECT ITEM - REDUCED : Approx 1.5 - 2cm tear along the top seam of the cover, quite noticeable.
180g Black vinyl edition in gatefold sleeve with A4 booklet limited to 400 copies
Vinyl edition of the compilation featuring 
the 1992 'Endless Sickness' demo, 1993 'Lost Empire' 7" EP plus bonus tracks. 
Often overlooked in most reviews of early 1990s European death metal, Mystic Charm remains one of the more unique and intriguing acts from that era. Originally formed in 1989 by guitarist Herwig Schuiling and female vocalist Rini Lipman, the two began writing songs together. Mystic Charm's sound was doomier and more melodic and ethereal than their contemporaries from the Netherlands. The band's subtle usage and tasteful placement of keyboards further distinguished them. The dense atmosphere of the music and

 Lipman's raspy vocals yield a sound more akin to the burgeoning black metal scene, particularly early Samael. "Endless Sickness," despite being a demo, remains one of the strongest death doom recordings from the era. The demo earned the band a recording deal with the new Belgian label Shiver Records and, in 1993, the band released its first 7" EP, also recorded at Harrow, called "Lost Empire." This new reissue collects together both the demo and EP, which have long been unavailable. Additionally, this new collection includes two previously unreleased bonus tracks—one live and one rehearsal recording.
---
We Also Recommend